Mata Nanki Charitable Hospital
The best medical facility and best medical services
Gurdwara Sh. Ber Sahib Sultanpur Lodhi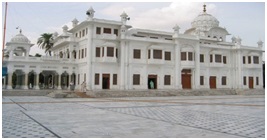 Guru Nanak lived in Sultanpur Lodhi for several years before setting out on his famous travels (Udasis) to deliver his message around the world. In this town lived his sister, Bebe Nanaki, and her husband, Bhaiay Jai Ram, an official in the service of Nawab Daulat Khan Lodhi, a feudatory chief, who became governor of the Province of Lahore during the first quarter of the sixteen century.

At the insistance of Jai Ram, Guru Nanak took the job of Modi (Store incharge) of the Nawab's provision stores. During that time there grew up a sangat, holy fellowship of disciples, Today Sultanpur Lodhi has several gurdwaras commemorating events connected with the life of Guru Nanak. Gurdwara Ber Sahib, the principal shrine at Sultanpur, is situated on the bank of the rivulet Kali Bein, half a kilometre to the west of the old town. Guru Nanak performed his morning ablutions in the Bein and then sat under a ber tree to meditate. Guru Ji meditated at this tree daily for 14 years, nine months and 13 days.

Guru Nanak one morning disappeared into the stream and was not seen for two days. When he reappeared at a spot, 2 km upstream, now known as Sant Ghat, the first words he uttered were, "No one is Hindu, no one is Musalman" and also uttered the Mool Manter "Ek onkar satnam krta purakh" . Guru Nanak Dev ji Started his first and third journey from Sultanpur Lodhi to deliver his message.
Sultanpur Lodhi, Punjab, India (28.1 Km – about 33 mins)

1. Head northbest on Dussehra Ground Rd 0.3Km
2. Turn left toward Talwandi Rd Bridge 0.3Km
3. Take the 1st right toward Talwandi Rd Bridge 0.2Km
4. Turn right toward Talwandi Rd Bridge 15Km
5. Take the 1st left onto Talwandi Rd Bridge 13.0km
6. Continue onto Mangupur Sujukalia Rd 3.2Km
7. Continue onto Sujukalia Mandimorrh Rd 1.0Km
8. Turn left onto Mandimorrh Goindwal Rd 7.8Km
9. Turn Left 0.5 Km
10. Turn Left 0.8Km
Mata Nanki Charitable Hospital
Mata Nanki Charitable Hospital was established by Mata Nanki Foundation, U.K. for providing good health care facilities to the people of Punjab. Bibi Balwant Kaur Ji, Founder of Mata Nanaki Foundation, has dream to start a hospital. In this area, many of people are not able to go hospitals because these hospitals either are far or have to be paid highly fees. So, with the help of donors around the world, this hospital was started